June 2019
Dear Parents/Carers,
THE END OF THE SCHOOL YEAR
The school year will finish on Tuesday 23rd July at 2.15pm. Students must wear full school uniform, including blazers and school shoes, as usual. There will be no school buses available at the end of the school day, as such students will need to make alternative arrangements to get home.
Normal procedures for reporting student absences will still be in place for the day and any absences which are not reported to school before the end of the day will be recorded as unauthorised.
RESULTS DAYS
On Thursday 15th August school will open at 9.00am for Year 13 students, and at 10.00am for Year 12 students, to collect their examination results. Once results are collected every student will receive a destinations interview.
On Thursday 22nd August school will open at 9.30am for Year 11 students to collect their examination results. Once results are collected every student will receive a destinations interview. In their interview we will ask students to either; confirm their place at SHWS Sixth Form, or share the details of their confirmed place at another college or apprenticeship. This is extremely important and students should ensure they do not leave site before this meeting has taken place.
Results can be collected on both days up to 12.00pm only. Students who are unable to attend either results day can;
Send a close relative with a signed letter authorising them to collect their results (we cannot release results to students' friends)
Submit a self-addressed and stamped envelope to office 9 before the end of June and results will then be put in the post.
Can leave an email address with support staff in office 9 on which students can be contacted on results day.
THE START OF THE NEW ACADEMIC YEAR
Our new Year 7 students will start on Tuesday 3rd September. Students should meet in the Main Hall for an Assembly at 8.40am.
Years 8, 9, 10 & 11 will return to school on Wednesday 4th September at 8.40am. They should go to:
Year 7: Their tutor room
Year 8: Drama Studio
Year 9 & 10: Sports Hall 1
Year 11: Main Hall
Our new Year 12 students return to school on Wednesday 4th September at 9.15am. They must go to the Drama Studiofor induction.
Year 13 return to school on Thursday 5th September and should go to the Common Room, at the time agreed on results day, for enrolment. Enrolment on this day runs between 9.30am and 12.00pm. It is important students attend at the correct time.
UNIFORM, APPEARANCE & EQUIPMENT
As families prepare for the new school year I would like to take this opportunity to remind everyone of our student dress code, appearance rules and required equipment.
UNIFORM
All students in Years 7 to 11 must wear:
Black blazer with SWHS badge
Long or short sleeve white shirt, must be tucked in and done up to the collar
School tie with House colours – available from Student Services
Black school trousers, black skirt or black pinafore dress.
Skirts must be knee length
Plain black belt with plain, non-branded buckle
Plain black, grey or white socks or tights
Polishable black school shoes; either flat or with a heel not exceeding 5cm
Sports trainers may only be worn for PE lessons or for games activities at lunchtime only
Other footwear, including walking boots and plimsolls, are not allowed to be worn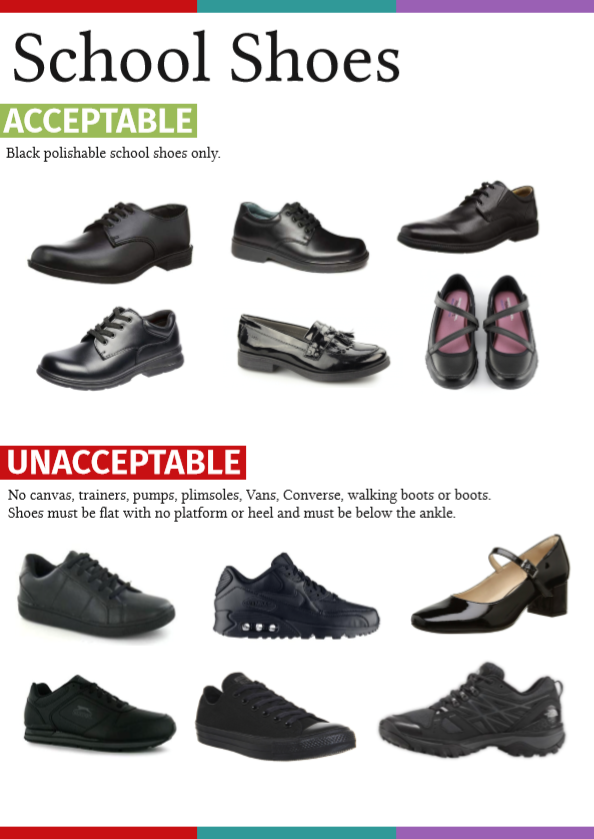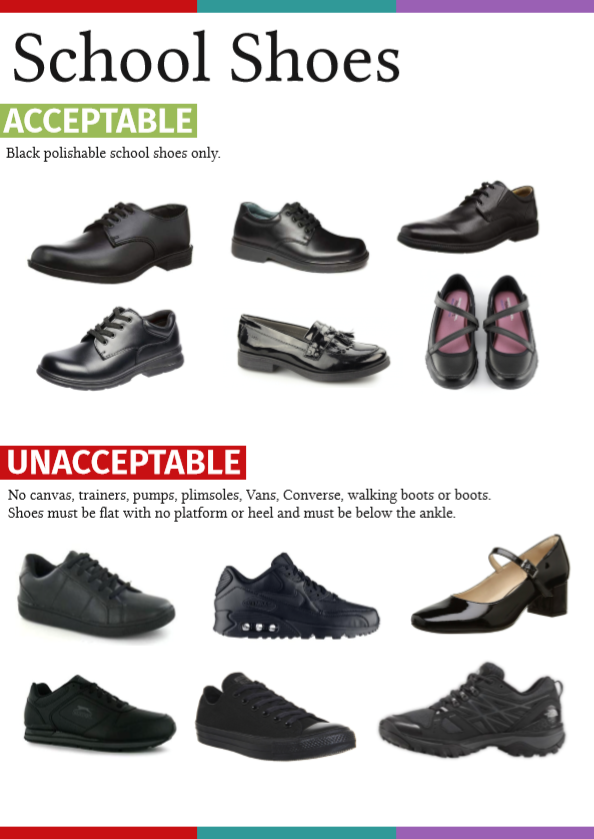 APPEARANCE RULES
Jewellery should not be worn in school. An inexpensive watch and one small stud in each ear are acceptable
Earrings, nose rings/studs, tongue studs, eye-brow studs or any visible body piercings are unacceptable
Clear nail varnish only is acceptable
False / acrylic / gel nails are not permitted
No false eyelashes of any description are permitted
Students in Years 7, 8 and 9 may not wear make-up. Make-up worn by students in Years 10 and 11 must be discreet and business like
HAIRSTYLES
Haircuts and styles must be smart and business like, and not covering the face or eyes
Hair accessories should be in the school colours of black, red or white
No shaving all or part of the head
No lurid, unnatural or extreme colouring
No tramlines
EQUIPMENT
The following items are essential and should be brought on a daily basis:
School planner
Pen, pencil, ruler and eraser
Calculator
A protractor, a pair of compasses
A strong bag to carry homework, equipment and P.E. Kit.
We are committed to ensuring every student has the correct uniform and equipment to ensure they can make the very best progress, every single day. Students and their families who would like to discuss financial support available should contact their child's House Progress Leader.
May we take this opportunity to thank you for your ongoing support this academic year and to wish you and your family a pleasant summer break.
Yours sincerely,
Mr S T Goodwin
Headteacher